WHAT IS GROUPS HIVE?
The Groups Hive folder is a simple way for you to sync, share, backup and access your files from you computer. After you download the Groups application, the Groups Hive folder will automatically appear on your desktop. Any files you put in your Hive will be saved in your backup and will sync between Hive folders created on your other devices.
As a part of our overall No Knowledge privacy environment, any file or folder you put in Groups Hive remains 100% private and visible to you and only you.
LOCATING YOUR GROUPS HIVE
Upon install, a Groups Hive shortcut will be created on your desktop.
Windows users: the folder is in /Users/<username>/Documents/Groups Hive/
MacOS users: the original folder will be found at /Users/<username>/Groups Hive/
Linux users: the original folder can be found at /Users/<username>/Groups Hive/
PLEASE NOTE: You cannot move the original Hive folder. If you move Hive away from its original location, it will no longer backup and sync automatically. You can move or delete the shortcut, however.
USING YOUR GROUPS HIVE
Groups Hive is automatically included as part of a sync. Your Hive folder will always upload and sync changes immediately; you cannot change Hive to only sync changes once every two hours, for example. If you need a sync to run less frequently, you can create a customizable sync in the application under the Sync tab.
Any file or folder dragged into Groups Hive will be added to the upload queue.
Any file or folder removed from Groups Hive and placed outside your backup set (as designated in the Groups application > Backup Tab) will then move into the deleted items bin under Groups Hive.
DISABLING GROUPS HIVE'S ABILITY TO SYNC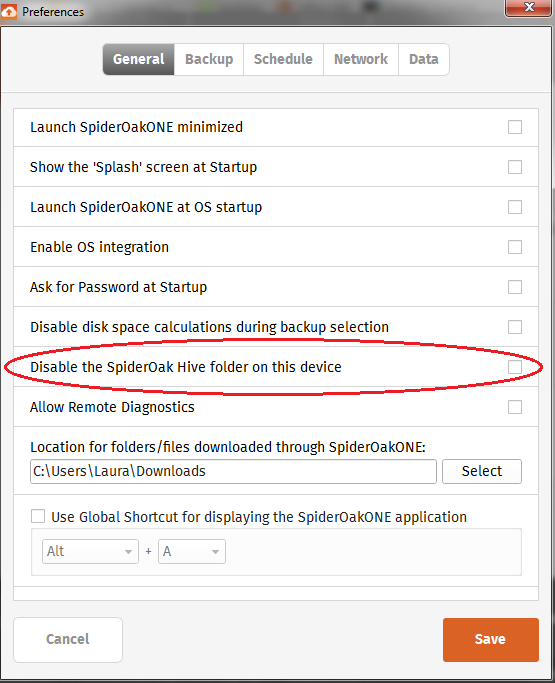 In Preferences > General, you can check the option "Disable Groups Hive folder on this device". With Hive disabled, changes you make to files located in your Hive will no longer sync to your other devices.
To re-enable the sync, simply un-check the Sync option. At this time the Groups Hive Sync settings cannot be changed.
DELETING YOUR GROUPS HIVE
When you uninstall SpiderOak Groups, your Groups Hive folder will remain. However, the files in Hive will no longer be synced.
To delete the Groups Hive folder, you must delete the actual folder itself. Deleting shortcuts to the folder will not remove the folder and its data from your computer. Make sure you have removed any files and folders you wish to save from your Hive before deleting the folder.
Windows users: the folder is in /Users/<username>/Documents/Groups Hive/
MacOS users: the original folder will be found at /Users/<username>/Groups Hive/
Linux users: the original folder can be found at /Users/<username>/Groups Hive/