CrossClave Version 15, "Daring Jumping Spider"
CrossClave 15 is the version you really want!
"Perfection is not attainable. But if we chase perfection, we can catch excellence." — Vince Lombardi
As you can see from the length of this release notes page, we've been busy. There are a bunch of new features and a slew of bug fixes in version 15. All of these small improvements are part of our goal to make CrossClave an excellent tool. Here are a few highlights:
Files: Set a historical version as current version
You've always been able to open and edit a historical version of any file in CrossClave, but this feature means you can revert a file to a previous version without needing to open the historical version.
Any historical version can be set as the "current version" with a single click
Why is this important? Ransomware and disaster recovery. If you have files that are infected with ransomware you can now revert those files to versions saved before the infection occurred. This is a great example of why a data-centric security model, or applying security directly to files rather than to a whole computer, is an important piece of an effective security story.
Onboarding: QR Code Scanning Improvements
One of the quickest ways to add people to a team if you are physically together is through QR code scanning. In Settings > Team Directory click the + button, enter their name, then pull up the QR code. The person you are onboarding simply needs to click "Join Team" and then scan the QR code and they'll be added. We've streamlined and improved this workflow so even fewer clicks are needed.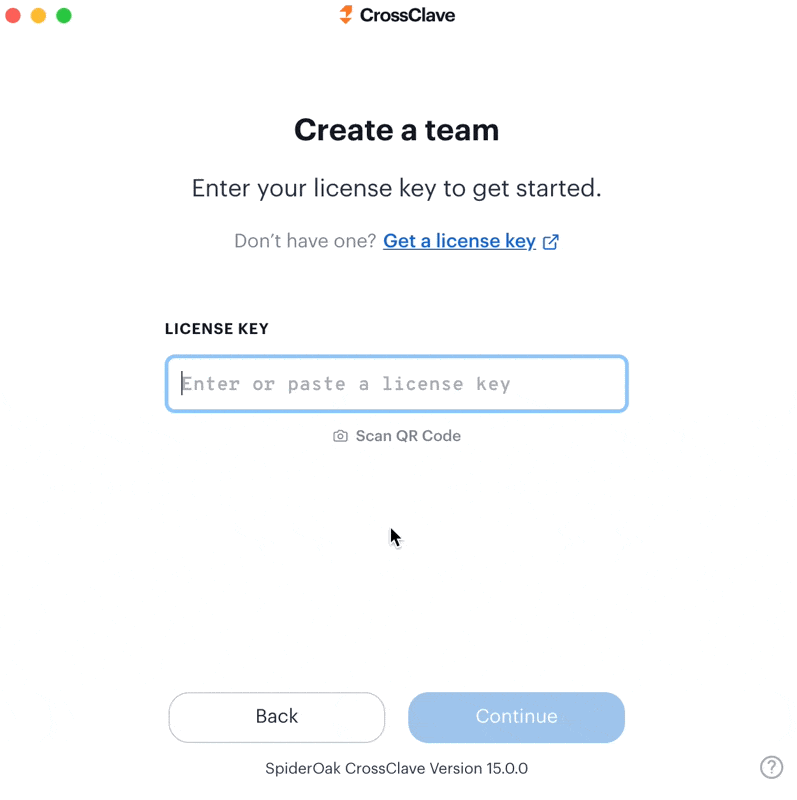 When you see ✅ Got it after a successful scan, the app automatically advances to the next step. No need to click Continue or click more buttons.
We hope you'll enjoy using CrossClave 15 as much as we enjoyed making it.
We love to hear how you are using CrossClave and how we can improve. Let us know through our Help Center, Community Forum, or at crossclave@spideroak.com
Download CrossClave 15, "Daring Jumping Spider"
New Features
CrossClave will now properly reject when users try and enter very long strings of characters for folder names.
Users will now be able to set historical versions of files as the current version.
Improved Team URL Validation when logging in.
Updated the 'Scan QR Code' user interface.
Setup process now correctly keeps its 'place' if the window is closed on the "That's It" screen.
CrossClave now intelligently 'Continues' when information scanned into the QR code reader is correct for a team or user setup.
Added keyboard navigation for file mentions.
CrossClave will now keep draft messages with file mentions even when switching tabs within CrossClave.
Chat entries referencing users who were removed from teams now say "user removed" for mentions of the ex-members
Bug fixes
Android devices are now able to create folders again
Camera light no longer stays on after call is over
Previews can now be discarded correctly
"Preview opened by" label now properly credits the appropriate user
The remove a member/leave a Space/Leave a Team/leave a team pop-up can now correctly be dismissed by clicking on the "X" button
Opening a file no longer blocks the app with a spinner
Draft copies now correctly reference the right users in version history
Back button is now visible on mobile
Hover over "Preview Details/See Version details" tag no longer stuck visible in Version details pane
Android devices are now able to download the "Current Policy"
Adjusted how messaged show timestamps
Fixed the @ mention picker to better handle long member names
New messages no longer change timestamp in older messages
The send button background will no longer stay gray and display the tooltip after sending a message
Long Member Names no longer spill out of screen for Pending Invite Users
Autocorrect no longer interferes with manually entered onboarding codes
Pending invites now correctly identify what team they are for
Content of Pending invite dialog has been fixed to no longer animate outside dialog bounds
Installer Hashes (SHA256):
| | | |
| --- | --- | --- |
| PLATFORM | VERSION | HASH |
| OS X installer | 15.0 | 3b2b7ad7932fcc45d3b725853fecebcc99e92b956d3741c0fcb845919c7dadf2 |
| Windows MSI installer (x64) | 15.0 | cebe47b478cede5204b4c82010d9a2e80ff94dd2e57ac8d670ce93ec89cecd81 |
| DEB Linux (x64) | 15.0 | c0042048054c64f1e3965f72da59d4529838eeadd7b8965c292409955d5f0250 |