CrossClave 17, "Shiny Black Orb Weaver"
CrossClave 17 is the version you really want!
"Progress is impossible without change, and those who cannot change their minds cannot change anything." - George Bernard Shaw
The team has been grinding away at a series of bug fixes for this release, as well as implementing a few new features we're excited to tell you about - mainly, making sure that your most utilized communication features are seamless and easy to use. One highlight for this update includes the right click menu in CrossClave that allows you to work with your space easier than ever before. Plus, we're on the verge of our iOS release, and excited to continue bringing the improvements to CrossClave that we feel will really give you the best experience possible.
We've now added "Add New Members to this Space" Button!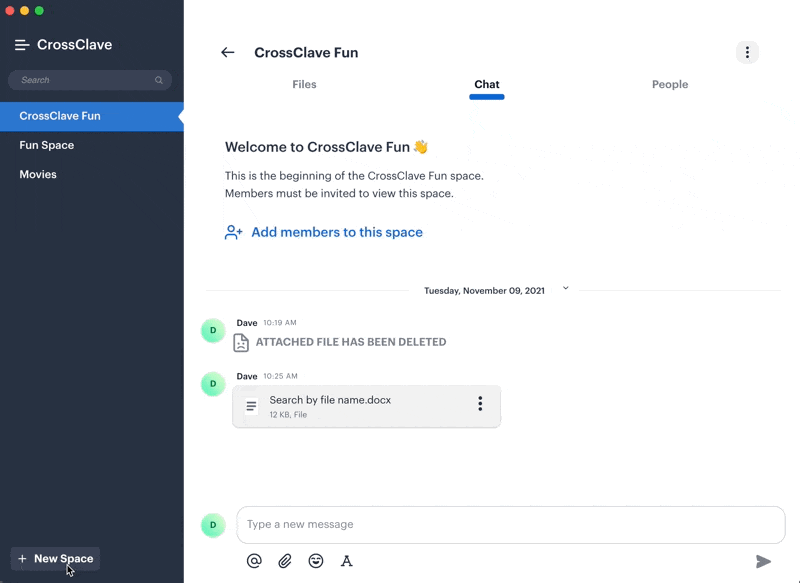 For newly created spaces, this new button will allow for new team members to be quickly added and populated in spaces when it makes the most sense - so you can quickly build your team within CrossClave without hunting for Add functionality.
We know being able to utilize context menus to access features you rely on is important, so we've changed this for ease of use - let us know what you think!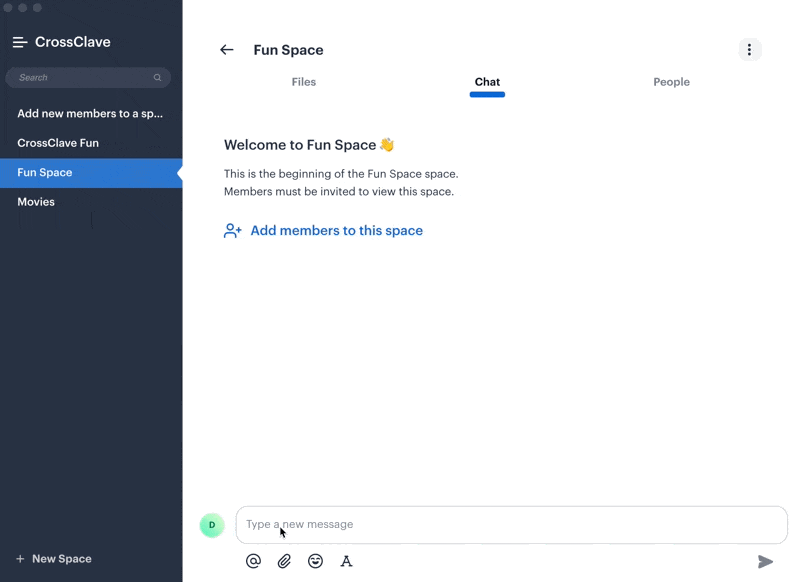 Finally, emojis are everything, so of course we want you to be able to parse your emojis, find, and populate them in text easily and efficiently.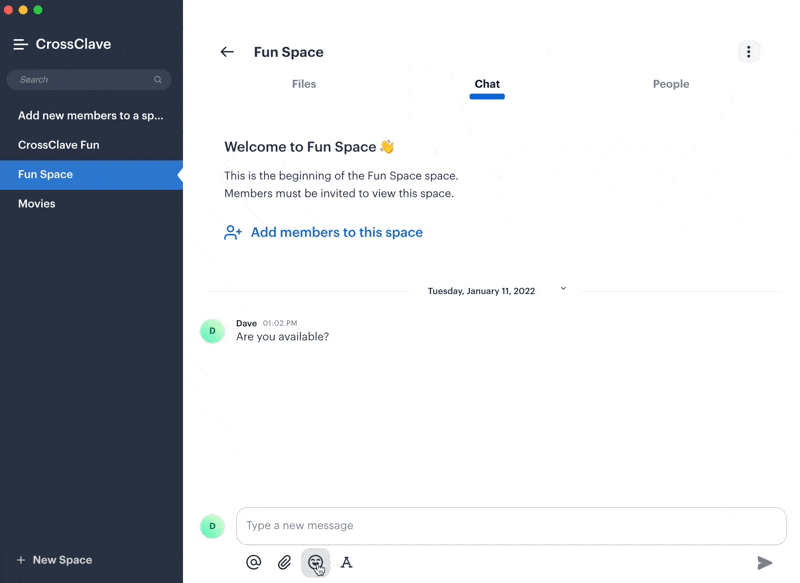 We hope you'll enjoy using CrossClave 17 as much as we enjoyed making it.
We love to hear how you are using CrossClave and how we can improve. Let us know through our Help Center, Community Forum, or at crossclave@spideroak.com
Download CrossClave 17, "Spiny Back Orb Weaver"
New Features
Implemented better organization for file mentions within the chat tab
Added a new "Add members to this space" button inside newly created spaces
Users can now confirm a user mention using the Tab key
Improved the URL open confirmation dialog box to be more readable
CrossClave now has context menus enabled on the desktop version for copy & paste as well as spellchecking
The application now properly focuses the emoji search box when clicking on the emoji button
Bug fixes
Cursor now properly changes to text when hovering over text
Improved license expired error some users received during first time setup to be more useful
Recovery phrase was not displaying under certain circumstances, this has been resolved
Application will no longer prevent users from entering text in search field for File Mentions
Error messages can now be copied
Cursor is no longer stolen from emoji picker search field
Fixed punctuation of the 'Open Link' modal
Cleaned up the CrossClave shutdown process

CrossClave correctly parses problematic URLs that caused issues on the chat

Optimized message rendering on chat to reduce resources usage

Message name and time is now properly highlighted as selected
Improved system bar buttons during onboarding
Rich Text Toolbar no longer Misbehaves in Some Cases on mobile devices
Space rename now correctly forbids names of more than 32 characters
Installer Hashes (SHA256):
| | | |
| --- | --- | --- |
| PLATFORM | VERSION | HASH |
| OS X installer | 17.0 | c29eb62c6c6b01cb2722cab92b7a1404aaa452544801d3c464aedd3e14cc9a84 |
| Windows MSI installer (x64) | 17.0 | d4baa36405516c24de3f8283e35b8acda54ce3e650c8da0422490993a1ce4fd6 |
| DEB Linux (x64) | 17.0 | bb4e6e840b568bcbb64ab5e12ba4b343f66c1285bb3b0624aedf7420fdb97421 |