WHAT'S HIVE?
Hive is the simplest way to back up your data with SpiderOak One or Groups. Everything that you place in the Hive folder is both backed up to our servers and synchronized across all the computers in your account.
When you install the application, Hive will appear on your desktop automatically.

HOW DO I USE HIVE?
Drag and drop the files you wish to back up in Hive. The application will immediately begin backing up these files and keeping them in sync. It's that simple.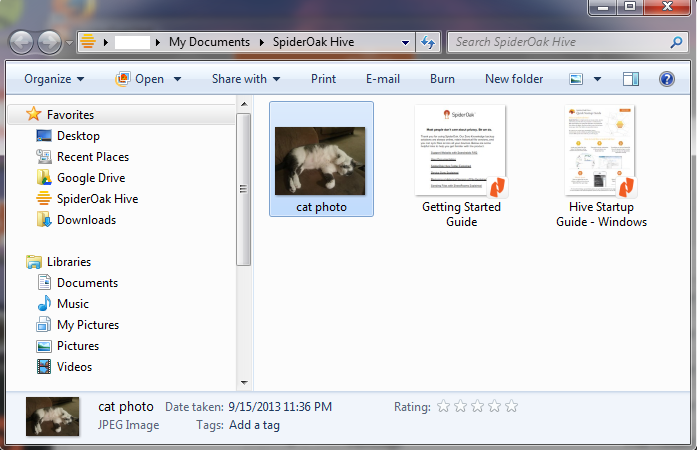 If you no longer want a file to be backed up, move it out of Hive. The application will move the backed up copy into your Deleted Items bin for this device, where it will be stored until you manually remove it.
For example, if you move a folder into your Hive on your work laptop, that same folder will be created in Hive on your home desktop. If you edit a file in Hive on your home desktop, those same changes will be made to the file on your work laptop.
To keep things simple, Hive cannot be moved or renamed. Instead of moving or renaming Hive, use Sync, which can make any folder on your computer work like Hive and can be given any name.