The General sub-tab can be found within the Preferences window.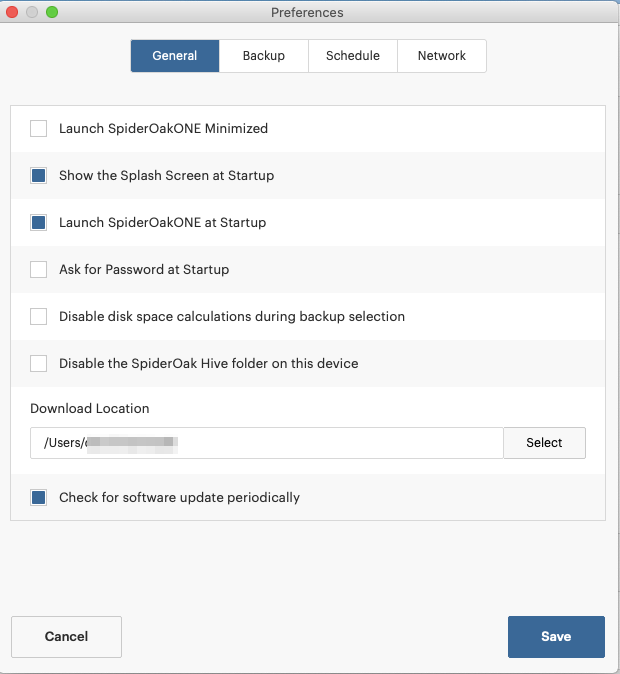 Within the General sub-tab you can find several Options:
Set Language
Choose between several language options such as French, German, Russian, Portuguese and Spanish.
Launch SpiderOak ONE or Groups Minimized
When enabled, the application will start in a minimized state instead of opening the window in your main view.
Launch SpiderOak ONE or Groups at Startup
When enabled, the application starts automatically when you log in to your computer's account.
Enable OS integration
Windows only. Adds right-click functionality to the Windows file explorer to allow backup selection outside of the desktop application.
Display File & Folder Overlay Icons
Windows only. When enabled, adds small overlay icons in the corner of files and folders in the Windows file explorer that have been backed up.
Ask for Password at Startup
ONE only. When enabled, the application will prompt for the account password before the application will launch and go to work.
Show the Splash Screen at Startup
When enabled, displays the application's splash screen when it launches.
Disable disk space calculations during backup selection
When selecting data for your backup set, the application will check the data stored on your account to see if it can save space by de-duplicating the new files you are adding. Enabling this option will make the application perform this process after you have backup up the file, instead of before.
Disable the SpiderOak Hive folder on this device
Removes the HIVE folder from your device.
Download Location
Sets the default download location for your files you are downloading through the desktop application.
Use Global Shortcut for displaying the SpiderOak ONE or Groups application
Windows only. Enable to set the application window to come to the front. You can adjust the combination using the dropdowns.
---
If you have any feedback on this article please let our support team know. Thanks!